Quick purging
Those who use Firefox can install Greasemonkey extension and enjoy phpBB quick purging hack.
No server-side installation needed
No confirmation pages
No page loads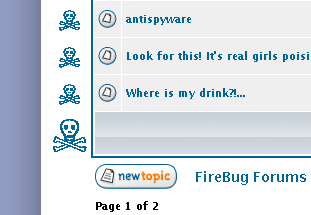 Quick purging hacks adds skulls to promptly delete the posts
I haven't tested the hack because I don't have much spam anymore. However, I think it's a brilliant development.
Next: Change log
Prev: Curing the forum
Home: phpBB Antispam HOWTO